Airborne Forces Riders – Ride of Respect 2020 in aid of the South Atlantic Medal Association (SAMA82)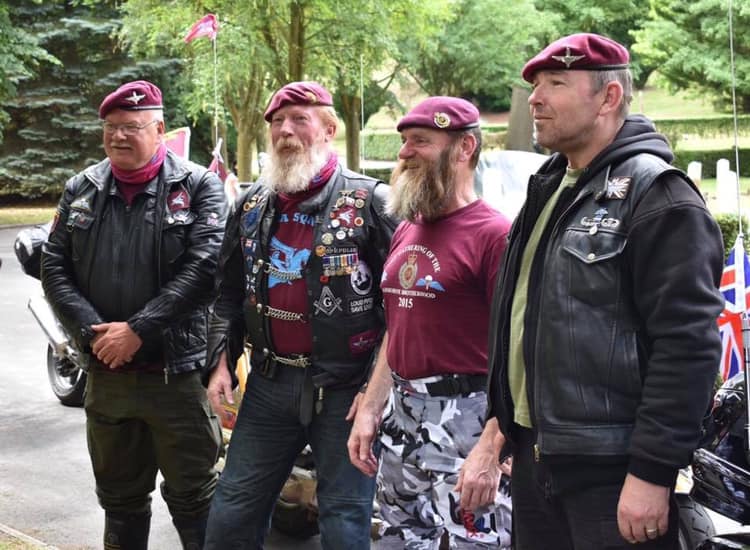 Last year, the Airborne Forces Riders (AFR) did a motorcycle ride around the UK to visit all of the graves of 3 Para who fell in the Falklands in 1982.   We intend to do the same this year, only visiting the graves and memorials of the fallen from other units such as 2 Para, Scots and Welsh Guards, Royal Marines, Royal Engineers, Royal Signals, Gurkha Rifles and Army Air Corps.
If we achieve our plan we will visit over 30 gravesites and more than ten memorials around the UK, covering more than 2000 miles in 8 days.  As well as paying respects to those at rest in their home towns and villages, we will pay our respects to those who were buried at sea or are still on patrol, at the Royal Navy Falklands memorial in Portsmouth in one collective act of Remembrance.
The date of the Ride of Respect is:  Saturday 01 to 08 August 2020.
We are doing this ride to demonstrate that nearly 40 years later the lads are not forgotten and to pay our respects to them and their families,  to raise awareness within the military and civil community of where they lie, and to raise funds for the South Atlantic Medal Association.
Everyone included in this email has offered or pledged to support the ride in some way, or have an interest through Unit or Service Associations, and we are grateful for your continued support as we carry out our task.   All of our administration and planning has been finalised, and has been totally paid for through our own contributions, or those of our wider family and friends, and for that we are also extremely grateful.
So how can you help us further? 
As you will see on the attached spreadsheet and itinerary, timings are extremely important as we are covering up to 400 miles a day and visiting multiple locations.  Due to the distances we have to cover we have only been able to allocate around 30 minutes at each location before moving onto the next.  This gives us just enough time to pay our respects and meet family or friends who turn up.  Obviously, we do not know the exact locations of each grave so it helps massively if there are local guides available to meet us as we arrive, and show us to the actual grave site.  This saves a huge amount of time.
If the Service Associations could arrange this for us through their local Branches and contacts, and where possible, inform the families, we would be very grateful.
As I mentioned earlier, we are trying to raise awareness of where the men lie and to raise funds for the South Atlantic Medal Association.
Again, we would be grateful if the Service Associations would consider including details of the ride on the web pages, journals or publications as this would help.
Finally, this is the link to our Facebook page which will have updates of the ride as we progress:  https://www.facebook.com/Falklands-War-Ride-of-Respect-2020-in-aid-of-SAMA-82-369572600436147
and our SAMA fundraising effort – the JustGiving page:
https://www.justgiving.com/fundraising/paul-moore48
Thank you for your help,
Best regards,
Paul
Paul Moore
President
Airborne Forces Riders
http://www.airborneforcesriders.org
https://www.facebook.com/groups/668426986597844/